Stairlifts: Worry-free stair solutions for your home
Straight Stairlift
Designed for a set of stairs going straight up to a second story or straight down to a basement or lower level.
Curved Stairlift
Curved stairlifts are required for staircases with a bend or landing.
Outdoor Stairlifts
Typically installed on porches, patios and decks. Straight or curved, these stairlifts are designed using marine-grade vinyl and weatherproof covers.
We proudly carry Bruno Stairlifts

Protect your freedom. We help you plan ahead, and adapt with the unexpected.
Is a stairlift right for me?
Stairlifts are a simple, affordable solution for anyone who suffers from mobility challenges including the elderly and persons with disabilities.
Even if your loved one can live alone safely, a stairlift creates a sense of comfort and independence.
Stairlifts may be right for you if you:
Are elderly and face mobility challenges or fall-risk concerns
Have Arthritis/Joint pain
Use a cane or walker
Experience balance issues or have visual impairments
Suffer from COPD or another respiratory illness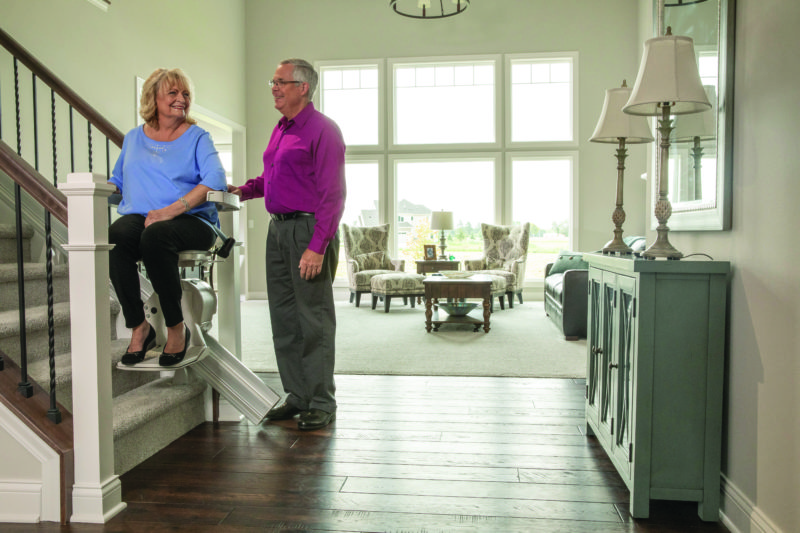 More questions? Let our experts help.
Keep your freedom to move and live
As we age, the parts of homes we once enjoyed —a fully finished basement, quiet second-floor bedrooms—can become an inconvenience, or even a hazard.
For seniors with limited mobility or a physical disability, a Stairlift, Wheelchair ramp, or Walk-In Tub can be the key that unlocks the freedom to fully enjoy your home, your family, and your life.
Chair lifts
Ramps
Walk-in showers & tubs
Ceiling Tracks
Grab bars and other safety tools
Health System Services will provide a no commitment in-home assessment to see how Home Modification can keep your home a safe and comfortable place. 
 
Your Friendly Neighborhood Experts
We're proud to be locally owned and operated, serving the Buffalo and Niagara Falls region.
It allows us to hire familiar faces you can trust
with your loved ones, and your home.
With over 23 years of home medical experience, Jeff saw the opportunity to help aging and disabled to age in the comfort of their own home, and maintain their quality of life. Jeff takes pride in his team, helping families and their loved ones find solutions for mobility issues, keep their freedom, and stay safe at home.
Shawn has been with HSS for 16 years. When you decide to work with HSS, chances are, you will meet Shawn. Through Shawn's expertise, attention to detail, and can-do attitude he has helped many folks keep their freedom, and stay safe at home.
Rob has been with Health System Services for 5 years. Rob's goal is to make sure you have a successful, positive experience working Health System Services, and living in your newly updated home.