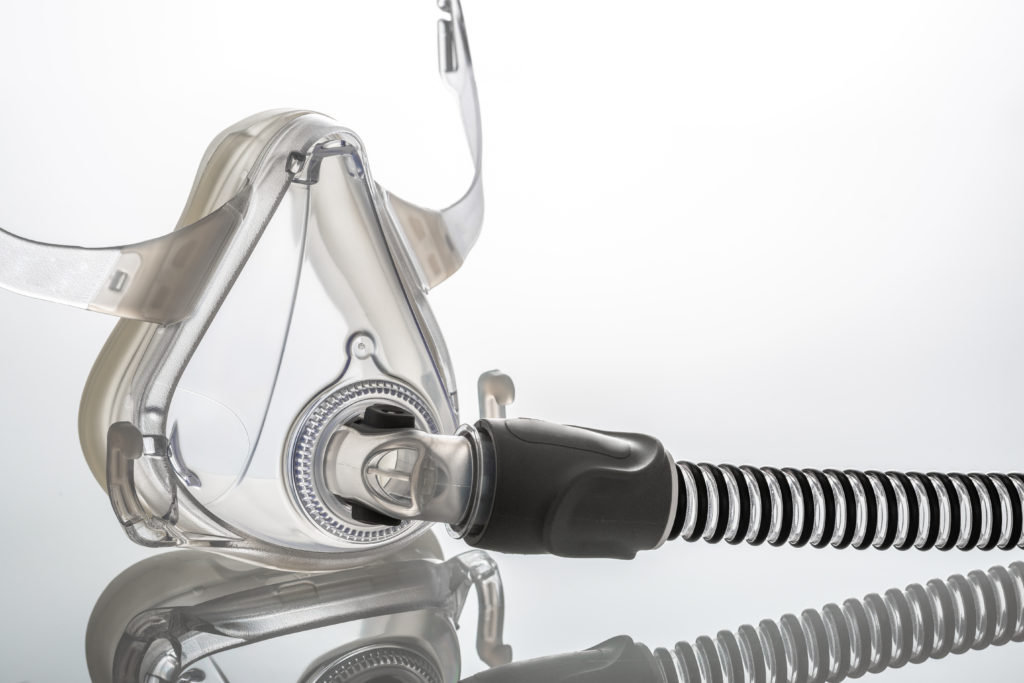 Answers to your CPAP cleaning questions
If you use a CPAP machine to treat your sleep apnea, you know how life-changing having effective therapy can be. To keep treatment successful and to make a healthier you, it is important to clean your equipment regularly.
You may have several questions about how and when to clean your CPAP equipment. We've answered common questions here to create the ultimate guide for CPAP cleaning.
What do I need to clean my CPAP equipment?
Keeping your CPAP equipment clean and germ-free can be done with household items that you are likely to have on hand.
Always use a mild unscented soap and warm water with a soft, clean cloth for surface cleaning.
Vinegar is a natural disinfectant that is a safer alternative to harsh chemicals.
Vinegar is effective for sanitizing and clearing up any calcification that may have formed in the bottom of your humidifier chamber.
Lay your equipment on a clean towel or hang to dry.
Never use cleaning products containing alcohol, ammonia, or bleach. These substances can damage the silicone in your mask and be harmful to your lungs.
Do I really need to clean my CPAP equipment every day?
Yes! Daily cleaning may sound tedious but is necessary in order to increase the longevity of your supplies and keep you in comfortable equipment. But don't worry, only the mask parts need a daily wipe-down and rinse. The rest of your equipment can be attended to weekly.
Wipe down parts of the mask: cushion/pillows, frame/shell and swivel with water and unscented soap.
Rinse thoroughly.
Place on a clean towel or hang to dry.
The humidifier should be emptied and refilled with DISTILLED water each day.
What CPAP parts will need to be cleaned weekly?
On a weekly basis, your tubing, mask, headgear and humidifier will need a bath.
Swirl in a mild soap solution for about five minutes.
Rinse thoroughly.
Hang or lay on a clean towel to dry.
The device itself should be unplugged and wiped down at this time as well.
Allow all parts to air dry before reconnecting.
Will I need to clean AND disinfect my CPAP humidifier?
Every two weeks, the CPAP humidifier should be disinfected in addition to being cleaning in a mild soap solution. To disinfect:
Soak humidifier for 30 minutes in a solution that is one part vinegar to five parts water.
Rinse thoroughly.
Allow humidifier to dry completely before reassembly.
What could happen if I do not clean my CPAP regularly?
Daily residue and facial oils, if not cleaned daily, can slowly break down the silicone of the mask. This break-down results in a compromised seal which can cause bothersome leaks and reduces the effectiveness of the therapy.
Breathing into CPAP equipment nightly causes condensation within the mask and tubing and if neglected, can result in bacteria and mold build-up. Exposure to bacteria and mold is dangerous to your health, it can lead to sickness or infection, among other risks.
How can I make my CPAP cleaning routine easier? Can I clean the equipment in the dishwasher?
Your cleaning process can be simplified with helpful products like mask wipes and automatic sanitizers. The SoClean CPAP sanitizer device automatically kills 99.9% of germs that could be lurking in your sleep equipment. Without having to use water and no need to disassemble parts, the SoClean makes daily cleaning a breeze. If you are interested in more info on mask cleaning wipes or the SoClean, please contact Health System Services' customer service at 1-888-638-4477.
CPAP equipment should never be cleaned in the dishwasher. The high water temperature could cause damage.
When should CPAP supplies be replaced?
Proper and routine cleaning of CPAP supplies increases their longevity but keep in mind that these supplies are not meant to last forever. Air leaks, discoloration and tears are all signs of aging materials.
Supplies are typically eligible for repacement every 1-6 months. Check replacement frequencies for common insurances here.
If it is time for new supplies or if you want more information, check out our Resupply program here.
Create a clean routine from this Cleaning Guide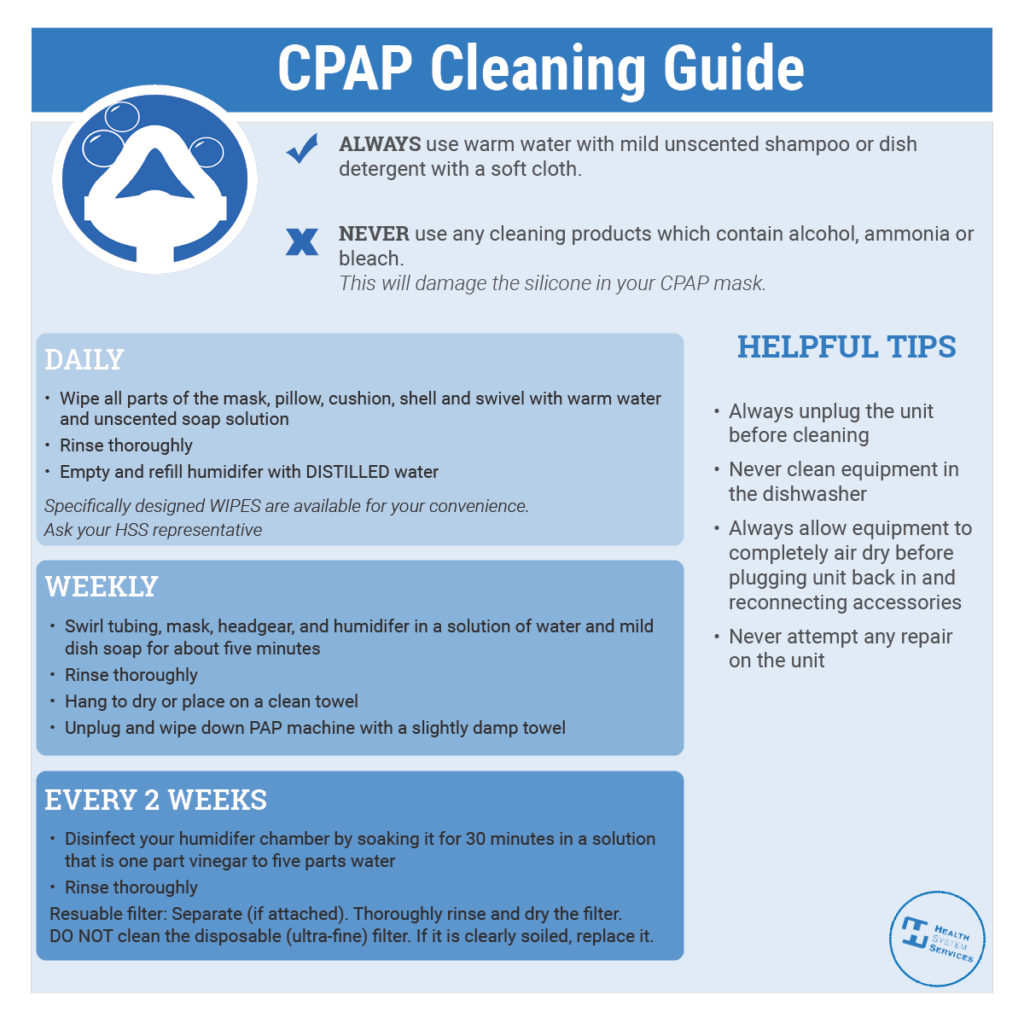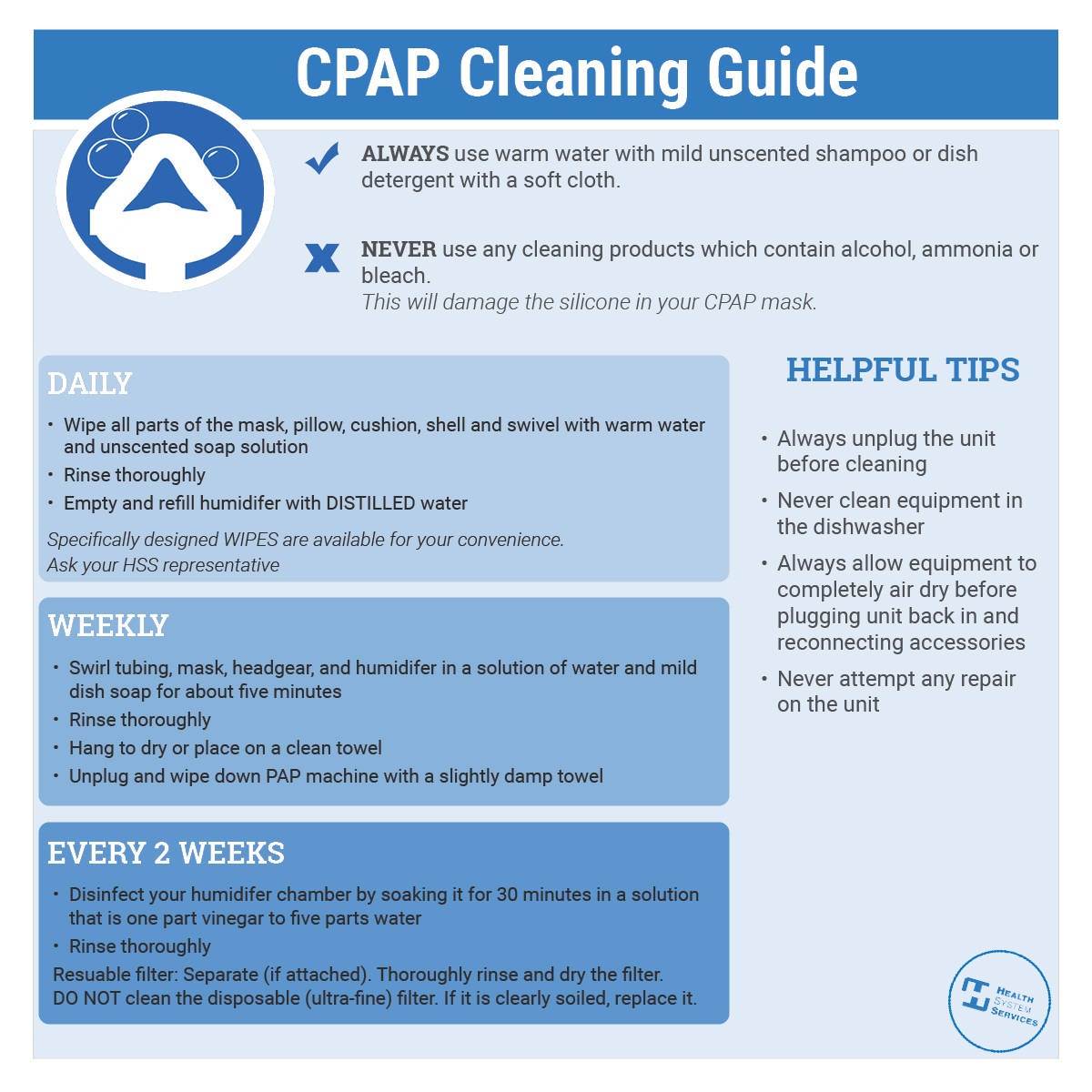 Visit our website for more information and other CPAP resources.
Information provided on this blog is not intended as a substitute to medical advice or care. Health System Services recommends consulting a doctor if you are experiencing medical issues or concerns.