Philips Respironics Recall Information
Updated February 3, 2022
As per Philips Respironics
Beginning on 1/27/2022, any order placed with Philips Respironics for a recall replacement CPAP unit will be fulfilled with a DreamStation 2 device.
DreamStation 2 shipments come with all machine components.
Patients who had heated tubing will receive a 12mm slimline heated tube.
Patients who had standard tubing will receive a 15mm standard tube.
The following orders placed with Philips Respironics will be fulfilled with a DreamStation 1 device:
All BiPAP orders
All orders placed prior to 1/27/2022
Updated December 23, 2021
Philips Respironics has started replacing recalled devices, and will be reaching out to patients directly over the coming months. They have not given us further information, or time estimates.
Light at the end of the tunnel:
We have done extensive outreach and coordination with alternate suppliers, and will be reaching out as soon as they become available.
Being that we are now six months into the recall, we are no longer maintaining stand-by phone support for questions regarding the recall.
As soon as the units become available, we will reach out to backlogged patients to get a machine as soon as they can be set up.
Additionally, we will provide general updates via text and email, and update this page as the situation develops.
For new patients and new physician's orders:
We are maintiaining a list of patients awaiting setup, and are prioritizing by severity and wait time.  There is a significant backlog, as we have been allocated less than 5% of required monthly stock by our supplier partners.
Why can't we replace your machine? Due to the current state of our health system and Covid-19, this small supply of units must be reserved for our healthcare facility partners, to open up new beds in overcrowded hospitals.  Additionally, insurances will not pay for an additional unit, if they are already paying for your Respironics unit.
The state of the recall: 
Respironics is the largest CPAP manufacturer in the world, and are replacing approximately 4 million units globally.  Unfortunately, due to the size of the recall and the way they have decided to handle it, we have no way to influence this process to further help our patients.
We have thousands of patients, many of whom we have spoken with individually, at a significant cost of time, resources, and mental emotional exhaustion of our customer service staff.
This entire process and lack of information provided by Phillips has been very taxing on our team, as many people are calling in very frusturated (understandably so), and we have no way of helping them.
Your patience is appreciated. Please trust that we are doing our best.
Replacing your machine - What you can do:
Register your device with Phillips Respironics, if you havent already. 
Philips Respironics will send a replacement DreamStation machine to the registered address. Recalled DreamStations' serial numbers end in C and the replacement machine serial numbers end in F.
Philips Respironics will give complete instructions on the replacement process and how to return the recalled device. Please read their materials carefully upon delivery.
We would like to reiterate that customers should keep the following items as they will connect to the new machine:
Humidifier
Water Chamber
Modem
SD Card
Power Cords
Supplies: Filters, Headgear, Mask and Tubing
Philips Respironics will not be replacing the items listed above. They only require the DreamStation machine portion be returned. The customer will be responsible for replacing any additional items returned. Do not send any items until instructed by Philips Respironics.
Registration Instructions
The first step is to register your device so Philips can facilitate sending a replacement.
To register your device, please call 1-877-907-7508 or visit www.philips.com/src-update
Follow the link on the right side of the page that says "Begin Registration Process"
You will need to enter your device serial number. The serial number is located on the bottom of the CPAP devices, starts with the letter J. Please remember to empty your humidifier before turning over your device to read the number.
If you have already registered your device, please call 1-800-644-3324 for replacement status and see below for important note.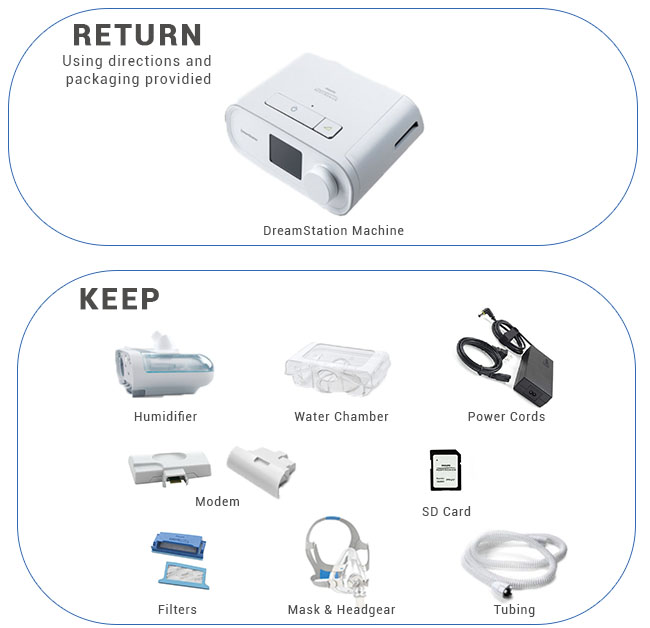 Philips Clincial Information - Sleep and Respiratory Care Update
Updated June 30, 2021
The U.S. Food and Drug Administration (FDA) has just issued a Safety Communication regarding Philips' recent recall of certain respiratory devices.
The FDA communication summarizes major issues and considerations related to the recall, and encourages patients using BiPAP and CPAP machines to discuss treatment options and alternatives with their healthcare providers, including "Continuing to use your affected device, if your health care provider determines that the benefits outweigh the risks identified in the recall notification."
The FDA also notes that they are working with Philips to evaluate the issue, the scope of the recall, and appropriate mitigation strategies.  The Agency is also analyzing medical device reports related to the affected devices over the period of 2009-2021 for reports that could be related to this issue.
The communication also urges patients to register their devices to Philips' website and also includes a link to the Medwatch Reporting Form where individuals can report problems with their devices directly to the FDA.
Suppliers are encouraged to share these links with their patients.  By registering their devices with Philips, patients will help provide useful data on the total number of devices affected.
Philips Respironics Recall Notification
Updated June 23, 2021
Philips Respironics, the manufacturer of PAP or Trilogy ventilation devices has announced a voluntary recall of their equipment due to possible health risks. Not all devices are affected by this recall, please visit www.philips.com/src-update for:
Recall notification
List of affected devices
Recommendations from Philips Respironics
It is our understanding that Philips Respironics, in collaboration with a third- party processor is formulating a plan to repair or replace your unit. Unfortunately, Health System Services will not be allowed to repair or replace your unit directly.
We apologize, but this is all the information we have at this time. This webpage will be updated as we receive more information from Philips. Please follow patient instructions and see FAQ below:
COMPLIANCE AND ALTERNATIVES TO THERAPY